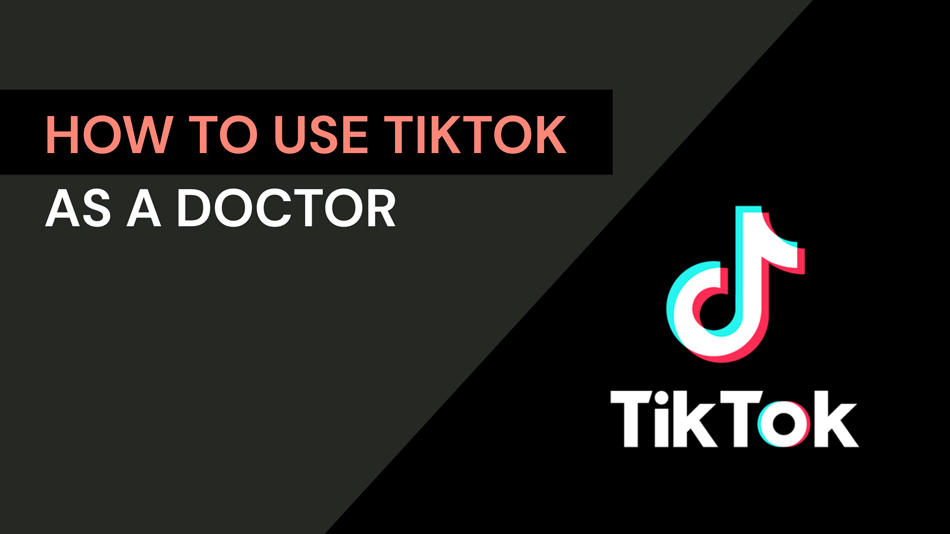 Should eye surgeons use TIKTOK to market their practice?
A topic that many clients – doctors and surgeons in the refractive sector – have raised on calls over the past few months is the use of TikTok to market their clinics.
When I asked them how this interest came about, many responded by saying that the topic arose from conversations they'd had with their millennial patients and staff.
Since we're constantly bombarded by shiny objects in the shape of social media and this topic is more relevant than ever before, I wanted to give this topic the attention it deserves. In this post, I'll be answering the question: "Should surgeons use TikTok to market their clinic?"
The short answer
We always warn clients to not be attracted by the "shiny new thing". If your target audience is not on TikTok, don't spend money there. For many of you, this chart will tell you whether you should consider using TikTok, or not. That data is US-based, but the take-way is global. This chart shows that 48% of U.S. adults between 18-29-years-old use TikTok. The figure drops to 20% in the 30-49-year-old age group, 14% among 50-64-year-olds, and 4% for those 65 and up.13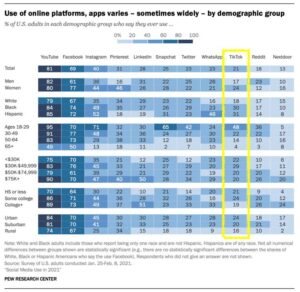 What is TikTok?
TikTok is a video-based social app. It's the fastest growing social media platform globally, with 800 million active users. It's best known for lip-syncing and dance challenges. Users can create anything from funny memes to educational videos.
How is content on TikTok different from other social media platforms?
Content on TikTok is shorter (15-60 seconds) than videos on other social media platforms like Facebook or YouTube. You'll often see audio snippets going viral and re-used by millions of users. Each user adds their unique twist to a trend by combining popular sounds with their original video content. Users have access to songs, effects, filters and sound bites to transform their home videos into dazzling productions.
Unlike Instagram, which is known for its perfectly composed, idealistic and air-brush filtered pictures, TikTok encourages users to engage more playfully and authentically. This makes it popular with a younger, less image-conscious user-base with more energy, creativity and time to kill.
Another significant difference is how the app's interest-based algorithm determines what users see. This makes it possible for videos to go viral without an extensive follower base. Interactions between users involve duetting or adding on to other people's videos ("Stitching")3. This keeps trends alive for longer and sparks conversation. You can also add subtitles over posts, making the experience more convenient and inclusive.
Brands around the globe have recognized the importance of TikTok as a new way to engage with a young target market, foster brand awareness and partner with popular TikTokers to generate sales. Many healthcare and cosmetic services, such as laser eye surgery, rhinoplasty and teeth straightening, are also marketing themselves on Tik Tok.
The platform enables these marketers to present themselves as a solution to a problem by demonstrating their service offering in a visually exciting way that appeals to the target market's emotional before and after state.
An example of this is plastic surgeon Dr Kassir from New Jersey. He films patients' reactions after treatment and shares the importance of natural rhinoplasty results. With this content, he reaches up to 1.3M views on some of his TikTok clips.
Should you have a TikTok presence?
With TikTok being such a convenient and effective way for marketing clinics and gaining patients, should you be hopping on the bandwagon?
As I mentioned earlier, there is no one-fits-all answer.
The first step is to establish whether your target market is using Tik Tok. 62% of US TikTok users are between the ages of 10 and 294. If your target market falls within this demographic, then TikTok might be a smart idea.
As with all types of social media, avoid these 3 common pitfalls:
Don't shout into the void. Instead, focus on creating opportunities to create dialogue with your prospects
Don't jump straight into the sale. It's all about providing value first and often, then creating multiple touch points for communication with your customers
Don't go in without a goal. While you can do a lot on social media for free – it will take time. Align your social media efforts with your content marketing and promotions. Set a SMART goal that you aim to reach with this activity
What content works on TikTok?
The majority of users on TikTok want funny and entertaining content5. You can create content directly in the TikTok app. Follow trending hashtags and get involved with the latest viral sounds, and apply them to your brand. Here are some examples of what content clinics use to engage with their audience:
Patient testimonials
FAQ videos
Showing results
Participating in viral trends
Feeling inspired
If the answer is yes, that's great. TikTok could be your new best way to engage with your target market. But before you start choosing your backing music and favourite effects, consider these pros and cons:
Pros
TikTok is effective, free advertising that generates brand/treatment awareness.
TikTok is popular with Gen Z and millennials – this is great if your target market falls into this category.
The algorithm works in your "favour". There's no need to create a huge follower base to get views.
TikTok retargets for you. If someone likes or comments on your content, they will likely see your next video even if they don't follow you.
When someone interacts with brands similar to yours, they will likely see your content too.
Cons
TikTok can be time-consuming and the algorithm favours videos from users that post regularly. For doctors with busy schedules, creating regular content will take up precious time and energy.
TikTok is a fast-paced environment and trends change quickly. You must be ready to move onto the next trend fast if you want your content to remain relevant.
User's attention span is short(er) than other social media channels. There's no guarantee your market will stick around long enough to enjoy all of your content.
There's no easy way to include links to your website. You'll need to add this to your bio.
Don't expect to acquire many leads unless you do paid advertising.
Paid advertising on TikTok
Once you've spent some time learning about the content that fits well on TikTok, it's time to consider advertising on the video platform. Similar to Facebook and Instagram, TikTok ads interrupt users while scrolling through their "For You" page. You can target audiences based on interest and demographics or re-target users that have already engaged with your company on your website or other social media channels. Using influencers to partner with your brand can help spread your message in an authentic way that feels in sync with the app's latest trends – we recommend picking someone local to your business that is relevant to your target audience.
As a general rule of thumb, if you want to advertise on TikTok, aim your offer to appeal to someone who isn't quite ready to book. For example, we recommend you focus your offer on social influencing. Social influencing is all about delivering valuable content. When content is valuable people will spend time with your content. The more time people spend on your content the more they recognize your authority in the space. Your call to action, in these cases, should be a pillar post that leads to a self-test or a free guide. Focus your social selling efforts (i.e. inviting someone to book an appointment) on Seeker Channels: These are channels where customers and prospects are actively seeking specific content – i.e. Google, YouTube, and Pinterest. Learn more about how advertising on TikTok works here.
So, should you give it a go?
Like with most new shiny social media apps, no one knows how long the hype will last. However, there is no harm in trying new things. We recommend producing your own videos first before jumping into advertising. See if there is a type of content you feel comfortable with sharing that engages your target audience.
Whether you choose to dip your toes in the water first by observing some popular doctors and clinics or plan to create a TikTok Ads Manager account directly after reading this post, it is wise to manage your expectations appropriately before investing a lot of time and money. Check out if and how your competition is presenting themselves on TikTok and ask your clinic staff if they'd be willing to discover the platform with you – your content will likely benefit from a second pair of (millennial) eyes.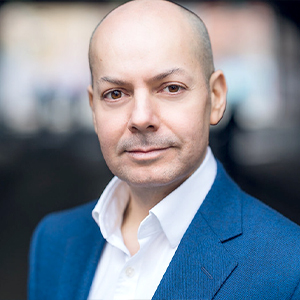 Rod Solar
Founder & Fractional CMO
Rod co-founded LiveseySolar and acts as a Fractional CMO for our customers. He's on a mission to help transform the lives of 10,000 people through vision correction surgery by 2024. To achieve that, he inspires his customers to make confident decisions that will help 50,000 people take the first step towards vision correction.
Meet our Founders
We're passionate about helping leaders of high-quality, growth-minded practice owners double their practice revenue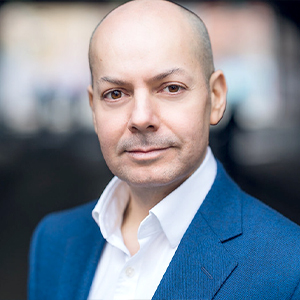 Rod Solar
Founder & Fractional CMO
Rod co-founded LiveseySolar and acts as a Fractional CMO for our customers. He's on a mission to help transform the lives of 10,000 people with vision correction surgery by 2024. To achieve that, he inspires his customers to make confident decisions that will help 50,000 people take the first step towards vision correction.
LiveseySolar completely transformed the way we were approaching this… We've gone from having just the dream of having a practice to having a practice up and running with people making inquiries and booking for procedures… It's extremely pleasing. We feel lucky we connected with LiveseySolar.
— Dr Matthew Russell, MBChB, FRANZCO, specialist ophthalmic surgeon and founder of VSON and OKKO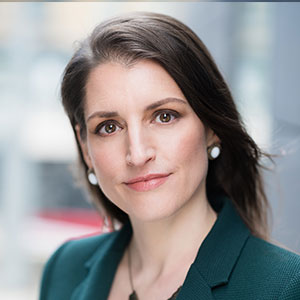 Laura Livesey
Founder & CEO
Laura Livesey is the co-founder & CEO of LiveseySolar. She has developed powerful refractive surgery marketing systems that increase patient volumes and profits for doctors, clinics, and hospitals, since 1997.
Rod and Laura know as much about marketing surgery to patients as I know about performing it. They are an expert in the field of laser eye surgery marketing. They know this industry inside out. I believe that they could help many companies in a variety of areas including marketing materials, sales training and marketing support for doctors.
— Prof. Dan Reinstein, MD MA FRSC DABO, founder of the London Vision Clinic, UK