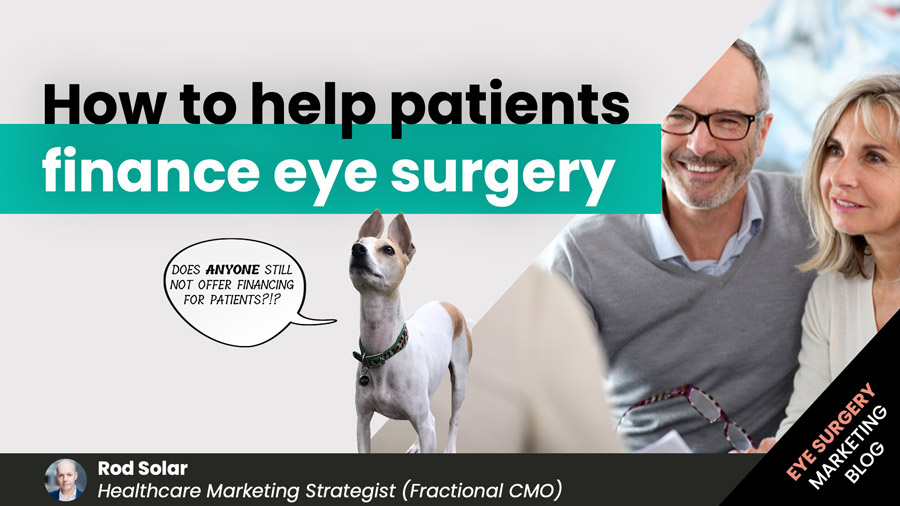 How to help patients finance eye surgery
Laser and cataract surgery isn't cheap. Expecting someone to make a lump-sum payment for a procedure that exceeds their average monthly cost of living is unrealistic for a significant per cent of your potential market.
With rising unemployment rates1https://www.bbc.co.uk/news/business-52660591, higher-income uncertainty2https://www.marketingcharts.com/customer-centric/spending-trends-114244 and the average cost of living continuing to climb3https://www.evolutionmoney.co.uk/news/cost-living-increasing-faster-real-wages, it's no surprise that consumers have been feeling more concerned about money. Even before COVID-19, practices around the world could expect to increase the number of people that chose to proceed with surgery when they gave their patients a choice to finance their procedures.
In this post, we break down how patients pay for private eye surgery and how to successfully use financing options.
Financing is now the preferred payment option
It's no longer an optional extra, but a cost of doing business. You must give your patients every reason to choose you over other providers. A payment plan will help you remain competitive in a marketplace now dominated by instalment payment schemes.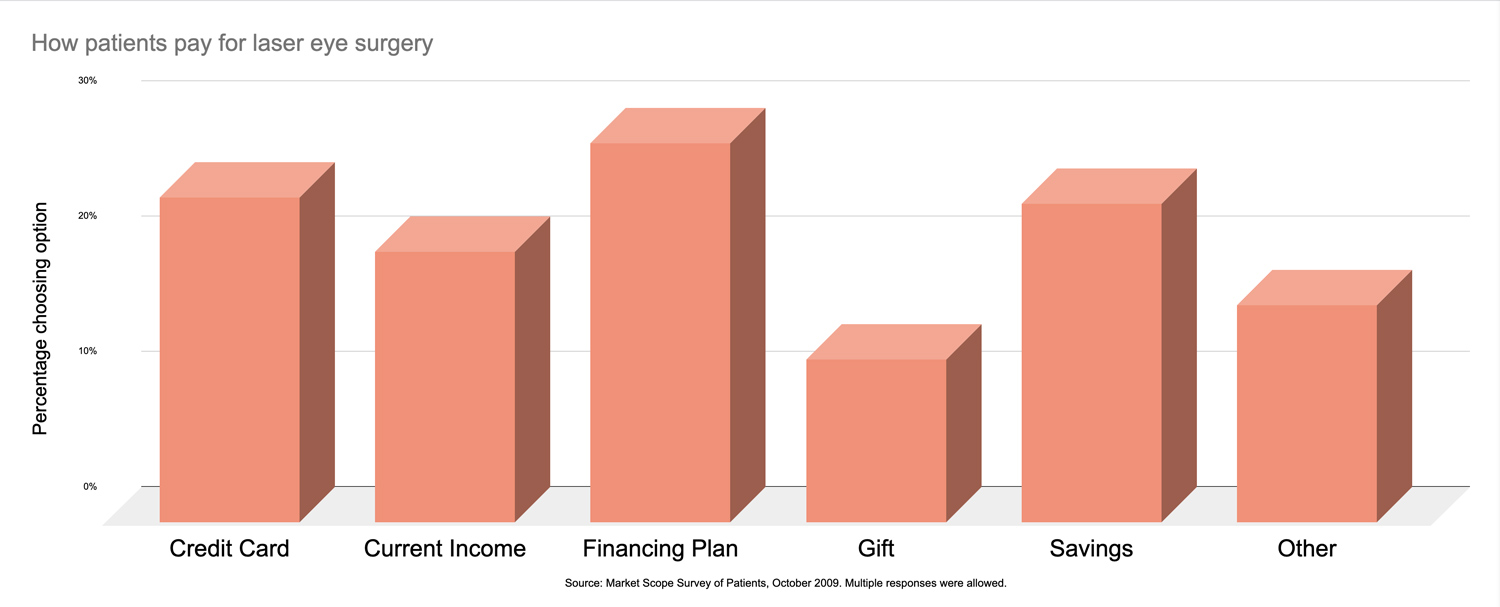 Studies 4Duologi. 2021. The Value Of Offering Payment Plans For UK Customers | Duologi. [online] Available at: <https://duologi.com/ideas/offering-payment-plans-for-uk-customers/>show that ⅓ of UK customers are more likely to spend with a retailer that offers finance options. In the US, the vast majority of refractive surgeons (±95%) offer financing to their patients; however, not all patients select it.
The table below shows what percentage of US patients opt to finance their procedures:
| Percentage Range of Patients Financed | Percentage of Surgeons Reporting this Range |
| --- | --- |
| Financing not offered | 5.1% |
| Less than 5% of patients select financing | 12.8% |
| 5% to 14% select financing | 12.8% |
| 15% to 24% select financing | 14.1% |
| 25% to 49% select financing | 30.8% |
| 50% or more select financing | 24.4% |
Source: Market Scope Survey of US Refractive Surgeons, July 2014
Instalments make your price appear lower
Giving people the option to pay for eye surgery in smaller increments (rather than one lump sum) anchors them on a smaller price.
Let us explain – Suppose you're selling eye surgery for £4995. By offering payment instalments (e.g. 36 payments of 138.75), you alter people's comparison process. They'll be more likely to compare your instalment price (£138.75) to a competitor's lump sum (e.g., £5000) – a huge difference that makes your offering more appealing.
Of course, people aren't simple. They know that comparing £138.75 and £5000 isn't accurate.
Surprisingly, that doesn't matter. People often compare prices subconsciously. So your instalment price has a good chance of altering that comparison5https://journals.sagepub.com/doi/10.1509/jmkg.2005.69.4.84
Offer financing schemes in your ads
"Laser eye surgery cost" is among the most popular searches related to laser eye surgery on Google. Therefore, it pays to offer targeted ads that serve this user intent. For example, these results from the search query "financing laser eye surgery" Note how these ads have ad copy that sells instalment plans.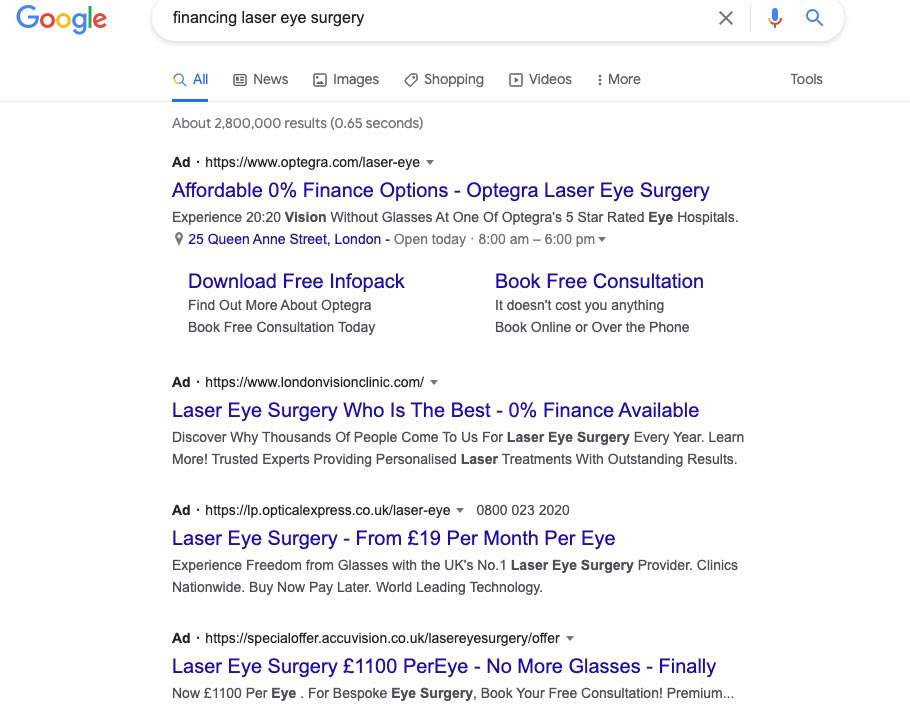 If you were to follow these ads, you'd also note that they offer landing pages targeted at serving the user's intent (i.e. to do with financing).
Offer financing on your website
First off, you should mention that you offer financing on your website. Start by adding the word "financing" or "payment plans" to your menu. For example, LASIK MD in Canada and the US do a good job with this menu – clearly showing they offer financing right next to the call to action button:

When talking about financing on the page, they use this graphic and text copy to sell the benefits of financing your treatment.

When displaying your prices on your costs page, you should break them down into instalments. Here's an example of how a practice in Aukland, New Zealand, offer their price accompanied by their financing price point: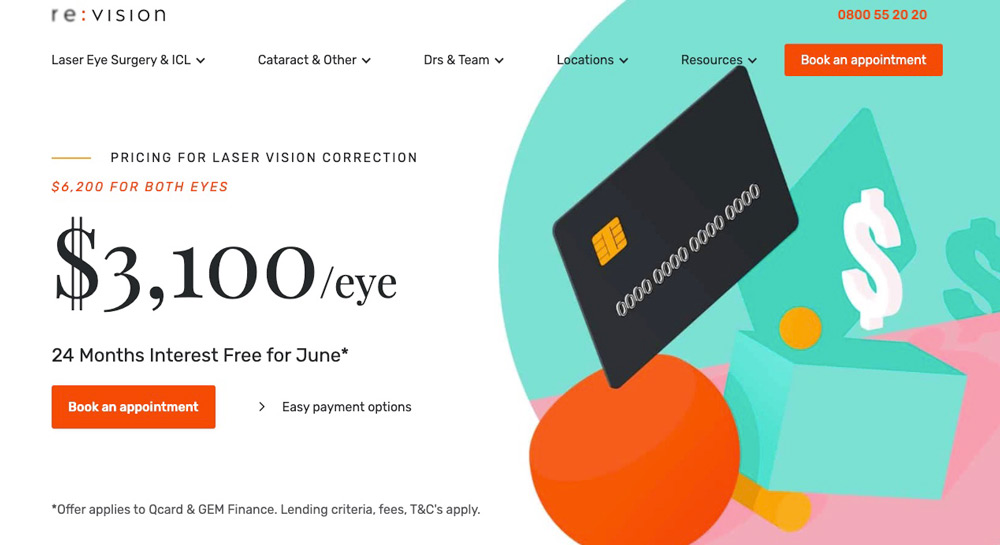 We often go one step further and just do that math for the visitor while showing the full price as a footnote – as we do here with our client VSON: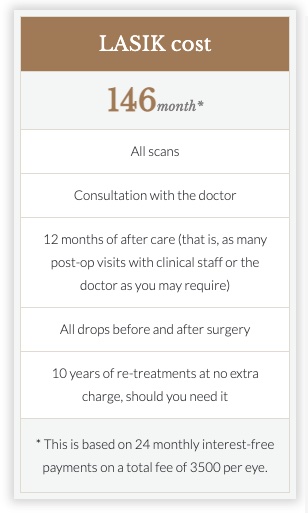 Mention financing on the first phone call – if the caller asks about cost
This is a particularly nuanced piece of advice. If your first contact people are involved on a phone or video call with a prospect, I advise you to not offer financing as a means of cajoling a patient to come in for an appointment – unless they cite cost as an objection.
Again, handling first contact phone calls requires training which is beyond the scope of this blog post. But what I can tell you is that you should focus the call more on emotional wants as opposed to logical needs.
Financing is a logical discussion. All things being equal, most people would prefer to financing their procedures than pay in one lump sum. However, that alone isn't a sufficient reason to come in and see if you're suitable for laser eye surgery.
I find that most people on the industry side put much too much importance on the cost objection. In reality, it's not present for everyone – and most people who call have already seen the cost on the website, so why bring it up at all? But, of course, if you're trying to screen out tyre-kickers for free appointments, that's another story.
Use financing as a means of preparing quotes and closing at first appointments
In my "Ready to Close" course, I advise participants to use a money worksheet (or patient application form) that includes:
Name
Recommendation
Recommended date and time
Person performing procedure
Initial investment
Balance investment
Number of months (if financed)
Interest rate (if applicable)
Total investment
I don't recommend anyone to ask for full payments at first appointments. Instead, teach counsellors to point at the initial investment and ask:
"Do you want to put this on your credit or debit card?"
When the patient says either, I tell them to "hold your hand out and process the payment. But, first, congratulate the patient and then formalise all of the other necessary arrangements."
That's it. But understand that this works best when I ask for a deposit – which I usually recommend being the first month of a monthly instalment, or up to 10% of surgery fees if the patient wants to keep monthly costs lower.
I also recommend having two types of financing available – interest-free and interest-bearing.
I recommend offering interest-free when patients express they don't want to pay interest or anything more than the procedure's cost.
I recommend offering interest-bearing when patients express they need to keep monthly payments as low as possible.
Financing, you see, is a tool to close. Therefore, you must wield it appropriately to help nudge a small percentage of people over the fence.
NOTE: The best way to answer that nagging question about practice growth or marketing or patient volume in the back of your mind is to book a free 15-minute compatibility call. Get some options and go away with a clear idea of what's possible.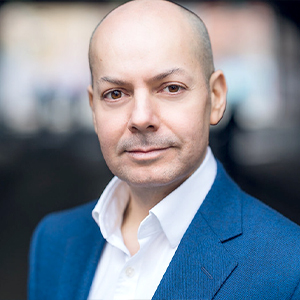 Rod Solar
Founder & Fractional CMO
Rod co-founded LiveseySolar and acts as a Fractional CMO for our customers. He's on a mission to help transform the lives of 10,000 people through vision correction surgery by 2024. To achieve that, he inspires his customers to make confident decisions that will help 50,000 people take the first step towards vision correction.
Meet our Founders
We're passionate about helping leaders of high-quality, growth-minded practice owners double their practice revenue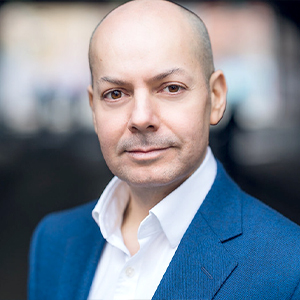 Rod Solar
Founder & Fractional CMO
Rod co-founded LiveseySolar and acts as a Fractional CMO for our customers. He's on a mission to help transform the lives of 10,000 people with vision correction surgery by 2024. To achieve that, he inspires his customers to make confident decisions that will help 50,000 people take the first step towards vision correction.
LiveseySolar completely transformed the way we were approaching this… We've gone from having just the dream of having a practice to having a practice up and running with people making inquiries and booking for procedures… It's extremely pleasing. We feel lucky we connected with LiveseySolar.
— Dr Matthew Russell, MBChB, FRANZCO, specialist ophthalmic surgeon and founder of VSON and OKKO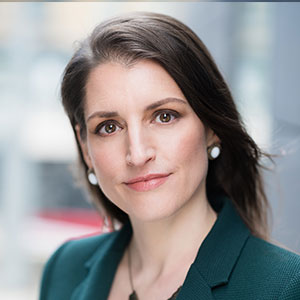 Laura Livesey
Founder & CEO
Laura Livesey is the co-founder & CEO of LiveseySolar. She has developed powerful refractive surgery marketing systems that increase patient volumes and profits for doctors, clinics, and hospitals, since 1997.
Rod and Laura know as much about marketing surgery to patients as I know about performing it. They are an expert in the field of laser eye surgery marketing. They know this industry inside out. I believe that they could help many companies in a variety of areas including marketing materials, sales training and marketing support for doctors.
— Prof. Dan Reinstein, MD MA FRSC DABO, founder of the London Vision Clinic, UK