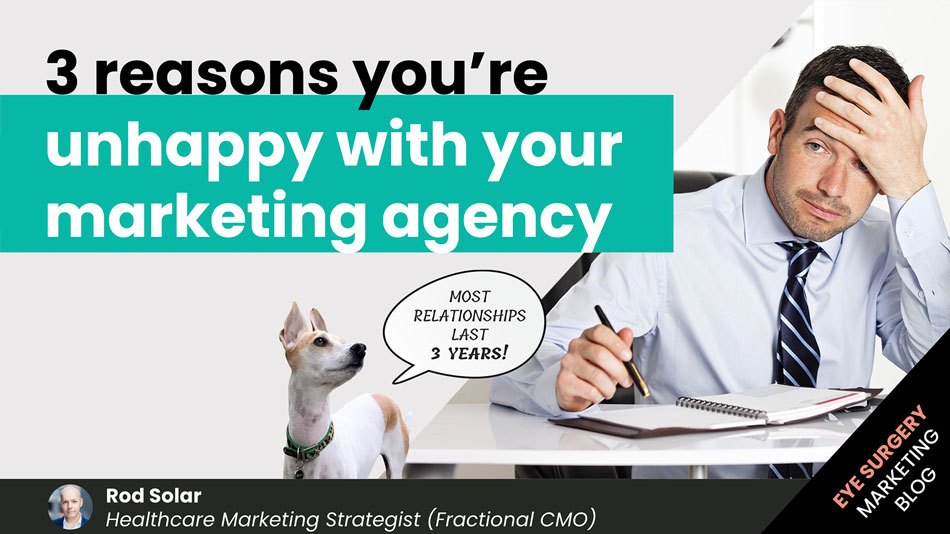 3 reasons you're unhappy with your marketing agency
How long have you been working with your marketing agency? One year? Three years? Five years or more?
If your relationship has lasted longer than 3.2 years, then it's lasted longer than average.
3.2 years is less time than both agencies, and clients would like their relationships to last. Most clients I speak to say they want a long-term relationship. And I also know that most agencies value client retention.
Switching agencies costs time and money. First, your new agency has to spend time learning your business and (more than likely) your whole industry. You need to spend time explaining your goals, how your business works, and what's most important. Then, to justify their value by providing "something different", they need to spend more time reinventing ideas instead of optimising the ones working.
It isn't much different for agencies. Acquiring a new customer can cost five times1https://www.huify.com/blog/acquisition-vs-retention-customer-lifetime-value more than retaining an existing customer. Increasing customer retention by 5% can increase profits from 25-95%2https://smallbiztrends.com/2014/09/increase-in-customer-retention-increases-profits.html. The success rate of selling to a customer an agency already has is 60-70%, while the success rate of selling to a new customer is 5-20%.
All this waste got me thinking – what causes the 3-year itch?
Long-term relationships demand effort. There are bound to be rough spots, ups and downs and, often, break-ups. So why do client-marketing agency relationships break down? I'll list three reasons why your marketing agency relationship might be eroding.
Incompatible communication styles
Lack of progress
Poor outcomes
The average Net Promoter Score for digital marketing agencies is 61. Our score is (at present) 75. This score exceeds what you'll find in most businesses, let alone agencies. Thus, we feel we have a good understanding of what it takes to make customers happy. Next, I'll discuss what I've found makes them unhappy.
1. Incompatible communication styles
Poor communication can lead to losing confidence, interest and enthusiasm on both sides. Many surgeons are time-poor, so communication must be of a high quality or risk becoming superfluous. In business, no news isn't typically good news. A dearth of communication is not a good sign.
Is communication between your agency and you accessible or challenging? Consider…
Frequency – is it too much, too little, or is it just right?
Quality – is communication informative? Is it helpful? Is it accurate?
Type – is there a better way your agency could communicate with you?
Timeliness – is communication happening when it needs to? Is your agency proactive, or do they respond only to your requests?
2.Lack of progress
Are things going as you both expected? Is progress realistic and happening at a reasonable pace? Is the direction right? Are you and your agency hitting deadlines you agreed to?
A perceived lack of progress can result in panicking or running out of time (and money). Few clients switch when they see measurable progress. Switching costs more than the benefits of the progress they're making. That is the correct strategic move. On the other hand, terminating the relationship too early is the number one reason practices fail to become the best competitors in their marketplace.
3.Poor outcomes
Outcomes are where the rubber hits the road. Poor results can lead to running out of money. You can get frustrated and switch. Agencies lose interest and stop prioritising you. If you're not making progress against your agreed outcomes, then it's likely time to change.
What you measure will change over time. You must, however, routinely measure what's most important.
For example, outcomes at the start of a project might be delivery/quality of assets (like a website). Outcomes might arise from planning discussions, meeting deadlines, or materials produced.
Later, outcomes might be more numerical. For example, results might include the number of leads your agency captures. You might measure conversion rates, growth metrics, appointments booked, or social statistics.
How can you improve your relationship with your marketing agency?
First, I recommend you begin with the end in mind. Do you want to maintain a long-term relationship with your marketing agency? Or do you want to cut your losses and move on as amicably as possible?
How to best fire your marketing agency is beyond the scope of this post. I'll have to write about that another day. But allow me this one piece of advice: If you don't think that your agency is the best in the world (for the price point you can afford), then move on, right now.
Don't get caught up in the sunk-cost fallacy. Your opportunity cost may be climbing faster than you think.
If you don't think your agency is making measurable progress to help you get to number 1 (whatever that means for you) in a reasonable amount of time, then you might as well quit right now.
As you consider switching, ask yourself:
"Am I panicking?" Quitting when you're panicked is dangerous and expensive. The best quitters decide in advance when to quit. Wait until you've stopped panicking to decide.
"What sort of measurable progress are we making?" If you're trying to succeed in a business relationship, you're either moving forward, falling behind, or standing still. There are only three choices.
With that, I'll assume you're making some measurable progress and want to improve the relationship with your agency because you want to stay engaged. Thus, I'll describe how you can improve communication and identify and measure progress and outcomes with your marketing agency.
How to improve communication
Your preferred communication style is up to you. And, you'll want to work with an agency that shares your style. Many mature agencies will have their preferred style, and you'll need to decide if that works for you. If it doesn't, you'll need to move on or accept it as an acceptable cost of working with a less than ideal marketing partner.
So, my first recommendation would be to have an open discussion with your agency about communication style. Spell it out. Here are some examples of how we communicate with our clients. Feel free to use these as a template and send them to your agency if you like them. Or alter them and define your preferences.
Frequency – We have several meeting pulses we set up from day one. Each pulse frequency has a different purpose:

Spontaneous Chats – Our clients can reach us at any time and we'll respond within our business hours. We use this medium to ask and answer quick questions, share little wins, and address urgent needs. If a need is genuinely urgent, a WhatsApp message enables us to respond even out of business hours if necessary.
Weekly Zoom calls with account consultants – These calls cover day-to-day project updates and issues (i.e. weekly sales, reminders, questions)
Monthly Zoom calls with marketing consultants – These calls cover significant project updates and issues (i.e. SEO, Paid Traffic, Development Projects, billing)
Quarterly Zoom executive meetings with agency directors – These calls cover strategic updates and issues such as (quarterly targets, annual targets, most of the types of issues we cover in the 90-DAY GAs and the MEPs)

Quality

Every planned call has an agenda
We time our calls and aim to stay on schedule
We send minutes within 24 hours of every planned call
We use a project management system to keep track of every message we send and receive from our clients, so nothing gets lost in the shuffle
Wherever we can, we use direct reporting tools (like Google Data Studio) that reduce errors and are real-time.

Type

To my surprise, I've found our clients love chatting with us over WhatsApp. They like using their mobile phones to ask questions and then getting fast responses from us. We love it because it's the one sure channel that every client will see.
We exchange messages on project management software. Clients can access and reply to messages using their email accounts. That keeps their data safe and secure. There is no way their data can get into anyone else's hands but our own.

Timeliness

Our pulse system (see "Frequency above") ensures that communication remains timely and relevant.
Importantly, we schedule internal meetings to discuss every client's accounts. That enables us to come to calls with fresh ideas or recommendations to optimise campaigns.
The frequency, quality, type and timeliness of our communication style may not suit every client. And that's ok. We've found a sweet spot that our ideal client appreciates, and that suits us too. As I said, use the bulleted list above as a template and see what your agency says. Now, let's talk about progress.
How to identify and measure against progress goals?
As you likely know, seeing results (see outcomes below) can take time. But that doesn't mean you must resign yourself to only hope for the best. On the contrary, you can measure progress goals until you reach the point of measuring results.
The aim is to check whether you and your agency are making progress towards your outcome goals – while there is time to alter course. There is a good chance that your outcome goals will follow your progress goals – if you've set them right.
A common mistake is to agree to start a project with a marketing agency and then only wait to see if you are likely to be successful six months later.
Seth Godin, in his book "The Dip: A Little Book That Teaches You When to Quit (and When to Stick)", suggests that you focus on (small) progress wins.
"To succeed," he writes, "to get to that light at the end of the tunnel, you've got to make some sort of progress, no matter how small… but it needs to be more than a mantra, more than just "surviving is succeeding."
Your challenge, then, is to identify the milestones in areas that precede the ultimate victory.
Progress goals will differ between each client and agency. But, it's still important to discuss the progress goals you have so that you can each remain clear on what good progress looks like.
For example, here are some ideas for progress goals you could agree with your agency:
"We'll deliver a viable 6-page website in 6 weeks. Then, we'll build it out with content over the following 12 weeks, adding 2 pages every week."
"We'll plan and shoot 50 videos within 8 weeks of starting our project."
"We'll hit 75% of our project milestones (deadlines) over the first 3 months of work together."
"We'll publish 1 post per week on the blog and syndicate this content across 4 social media channels for one year."
"80% of our blog posts will have good (i.e. green) Yoast scores."
"80% of our blog posts will have good (i.e. Grade 8) readability scores."
"80% of the website pages will load in 3 seconds or less."
Again, you'll have to agree to the specifics with your marketing agency. Your progress goals will depend on what's important to you. However, they should have positive relationships with your outcome goals. If it knows its business, your agency should guide you on which progress goals strongly correlate with client success.
Checking in regularly (see communication above) with your agency and discussing your project against the progress goals keeps each other informed and accountable. In addition, progress is an excellent proxy for reaching your outcome goals, which I'll discuss next.
How to identify and measure against outcome goals?
After more than 20 years working with cataract and refractive surgeons, I've learned that most can't specifically tell you what outcome goals they want to achieve. However, they all know they want more surgical patients. So, while it's good to know the vague destination you wish to reach, it's crucial to specify what that looks like.
We've all heard of SMART goals. The SMART goal approach remains classic because it is helpful in so many circumstances. So, at the very least, I will guide my clients to specify the SMART goals they want to achieve around surgical patient numbers.
However, while specific surgical patient numbers may be the superordinate goal you want to measure against, your agency is not solely responsible for getting patients to lie on your surgical bed. The attainability of those results will depend on many factors, including
Macro-economic trends
Your availability
Your staff
Your suitability criteria
Your breadth of offerings
Your price competitiveness
The ease of doing business with you (online booking, hours of operation, location)
Unexpected events like global pandemics, etc.
So, if you want to get the best out of your marketing agency, you'll want your goals for them to be relevant. But then, you'll need to be realistic about when you expect your goals to materialise (i.e. Timeliness).
For best results, you'll want to set a broad set of goals across every stage of your patient value journey. This approach provides a set of metrics that you can check weekly. It also informs you about weak spots in the journey that you may want to prioritise to improve results.
For example, we set out metrics like these for our Growth Acceleration clients. We check on them weekly, rating them on a scale of weak to strong. Then, together with our client, we adjust the goals for each metric every quarter (at our quarterly executive meetings) to ensure we've got our fingers on the pulse of the practice's vital marketing statistics.
Stage
Sample Metric
Awareness
Google Search Impressions (weekly)
Rankings Distribution (Search Visibility)
Users (All Channels)
Engagement
Click-Through Rate (CTR)
Pages/Session
Lead to Convert Conversion Rate
Subscription
Self-test Completions
Calls
Cost/Lead (Paid)
Conversion
Online bookings
Telephone bookings
Excitement
Screening to First appointment Conversion Rate
Email/SMS Open Rate
Email/SMS Click-Through Rate
Ascend
Surgical treatments
Package upsells
Advocacy
No. of Reviews
Quality of Reviews
Promotion
Referrals from patients
Referrals from optometrists
Again, you'll need to decide what you want to measure. Your agency should guide you through this process. They'll need to tell you where you currently score and what you can expect to achieve in three months. These metrics above are starting points. Feel free to share them with your agency and ask them to tell you where you are on each and what you should expect in 3 months.
When to call it quits (and when to stick)
In "The Dip", Godin advises "strategic quitting". What he means is
"Quitting when you're panicked is dangerous and expensive. The best quitters are the ones who decide in advance when they're going to quit."
Before you begin an engagement – with a marketing agency or any other business partner – Seth advises that you ask yourself, "How much time and money am I willing to sacrifice? How much short-term discomfort am I willing to endure?"
Based on these limits, are you likely to achieve greatness with your current agency partnership? If yes, proceed and only quit if you've exceeded your defined quitting limits OR something fundamental has changed.
Godin also advises not to quit at the first sign of trouble. If your journey is worth travelling, then quitting at the first setback or challenge only wastes the time you'll spend getting back to where you were when you quit. The cataract and refractive surgeons that achieve "best in the world" status with their practices get through "the Dip".
Carol Tavris and Elliot Aronson, in their book "Mistakes Were Made (But Not By Me): Why We Justify Foolish Beliefs, Bad Decisions and Hurtful Acts", put forth a special rule of thumb when predicting the likely endurability of any relationship. They say that the ideal ratio of positive to negative interactions or outcomes should be 5:1. Any less than that, and you may be settling. Any more than that, and you're likely in a relationship that you can empathetically recommend to your closest friends and colleagues.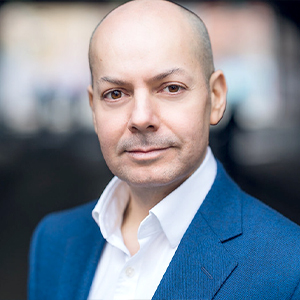 Rod Solar
Founder & Fractional CMO
Rod co-founded LiveseySolar and acts as a Fractional CMO for our customers. He's on a mission to help transform the lives of 10,000 people through vision correction surgery by 2024. To achieve that, he inspires his customers to make confident decisions that will help 50,000 people take the first step towards vision correction.
Meet our Founders
We're passionate about helping leaders of high-quality, growth-minded practice owners double their practice revenue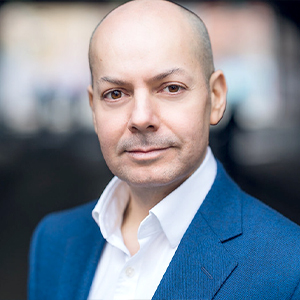 Rod Solar
Founder & Fractional CMO
Rod co-founded LiveseySolar and acts as a Fractional CMO for our customers. He's on a mission to help transform the lives of 10,000 people with vision correction surgery by 2024. To achieve that, he inspires his customers to make confident decisions that will help 50,000 people take the first step towards vision correction.
LiveseySolar completely transformed the way we were approaching this… We've gone from having just the dream of having a practice to having a practice up and running with people making inquiries and booking for procedures… It's extremely pleasing. We feel lucky we connected with LiveseySolar.
— Dr Matthew Russell, MBChB, FRANZCO, specialist ophthalmic surgeon and founder of VSON and OKKO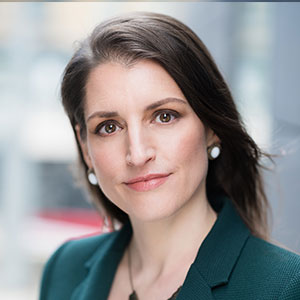 Laura Livesey
Founder & CEO
Laura Livesey is the co-founder & CEO of LiveseySolar. She has developed powerful refractive surgery marketing systems that increase patient volumes and profits for doctors, clinics, and hospitals, since 1997.
Rod and Laura know as much about marketing surgery to patients as I know about performing it. They are an expert in the field of laser eye surgery marketing. They know this industry inside out. I believe that they could help many companies in a variety of areas including marketing materials, sales training and marketing support for doctors.
— Prof. Dan Reinstein, MD MA FRSC DABO, founder of the London Vision Clinic, UK