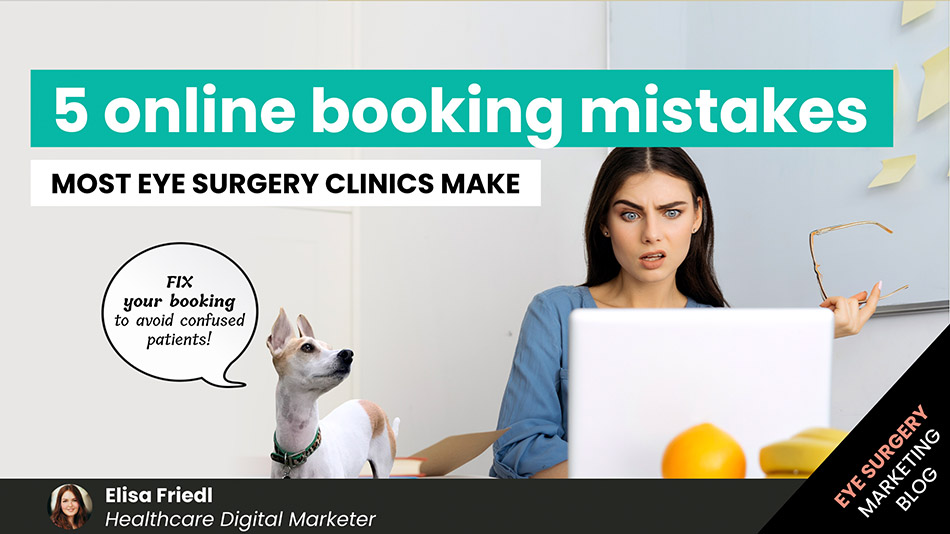 The top 5 online booking mistakes MOST eye surgery practices make
In the fast-evolving landscape of refractive surgery, the ability to adapt and optimize patient experiences is paramount. One crucial aspect often overlooked is the online booking process. A seamless, user-friendly booking system not only saves your team time, but also, enhances patient satisfaction and drives growth. Leaving this opportunity on the able costs loads of income on missed appointment opportunities.
Yet, all too often, practices fall into common pitfalls that hinder their online booking potential. In this article, we'll dissect the top five mistakes prevalent in (not only) eye surgery practices worldwide. From cumbersome interfaces to availability, we'll uncover these missteps and offer practical solutions to pave the way for a more efficient, patient-centric booking process.
Refining your online booking system isn't just about convenience—it's about elevating your practice to new heights of success.
Don't let these mistakes hold your practice back. It's time to unlock the full potential of your online booking system. Discover how many appointment times you should actually offer (and what scientific studies have found out about online booking behaviour!).
Mistake 1: You don't offer online booking
This one seems obvious, but it's a real issue. Research from Experian Health found that 76% of patients would like to schedule appointments online or via mobile device. That number increases if your main offer is SMILE or LASIK – you're serving a market that would rather not see a doctor, than have to pick up the phone and call.
And yet, more than half of the new customers approaching us in 2023 and a big portion of the practices I come across when doing competitive research offer their patients nothing more but a mere contact form to get in touch.
Yes, integrating an online booking solution takes work. But when the payoff is a freed-up team, happier patients and more appointments in your system, it's a no-brainer. Stop making excuses and make it happen instead.
Mistake 2: Your online booking is too complicated
I see this all the time – and in some practice owners' defense: it's usually not their fault. Each country seems to have their own preferred systems – one less user-friendly than the next. Most practices take up what's already familiar or used by their competitors.
While implementing an online booking system is essential, an overly complex calendar interface can deter potential patients and lead to frustration.
It's crucial to ensure that the booking process is intuitive, straightforward, and user-friendly. Complicated calendars with unclear navigation can result in abandoned appointments, a loss in revenue, and ultimately, a negative impact on the practice's reputation.
When a lead gets to your booking page, they should:
See available days immediately without scrolling or clicking
See a brief description of the appointment, duration and (potential) cost of the appointment without scrolling or clicking
Be able to book an appointment in 3 clicks
Land on a thank-you page confirming what will happen next
When a leads gets to your booking page, they should NOT:
Have to choose between multiple appointment types – especially when they don't know the difference between one type and another.
Have to decide which location or practitioner they want to see (multiple booking pages can solve this problem)
Have to give unnecessary information pre-booking (instead, send an SMS or E-Mail with a questionnaire AFTER booking is complete)
A great user experience is one where you don't force your leads to make unnecessary decisions (you're stressing them out). Instead, keeping it as simple as possible is key.
NOTE: The best way to answer that nagging question about practice growth or marketing or patient volume in the back of your mind is to book a free 15-minute compatibility call. Get some options and go away with a clear idea of what's possible.
Mistake 3: Too Little Availability (The Scarcity Effect)
While excessively limiting availability, intentional or not, may seem like a strategy to heighten demand, it often frustrates potential patients and drives them towards competitors with more accessible schedules. A study observing customers' choice behavior in online appointment systems has found that service providers that offer too little appointment times can cause potential customers to expect the provider to be overbooked and the waiting room to be crowded 1https://link.springer.com/article/10.1007/s11573-023-01161-9 The study concludes, that offering less than 5 appointment slots per day has a negative impact on how many bookings you get.
Mistake 4: Too Much Availability (The Quality Effect)
Conversely, offering an excessive number of appointments can lead to a negative effect on your bookings because of the quality effect. Springer's study suggests, that customers associate a smaller number of offered slots with a more popular provider. 2https://link.springer.com/article/10.1007/s11573-023-01161-92 An overwhelming availability can imply a lack of demand or expertise, potentially deterring potential patients seeking specialized, high-quality care.
By offering too many appointment slots on each day and by offering appointments too far into the future, you are also inviting the patient to delay booking.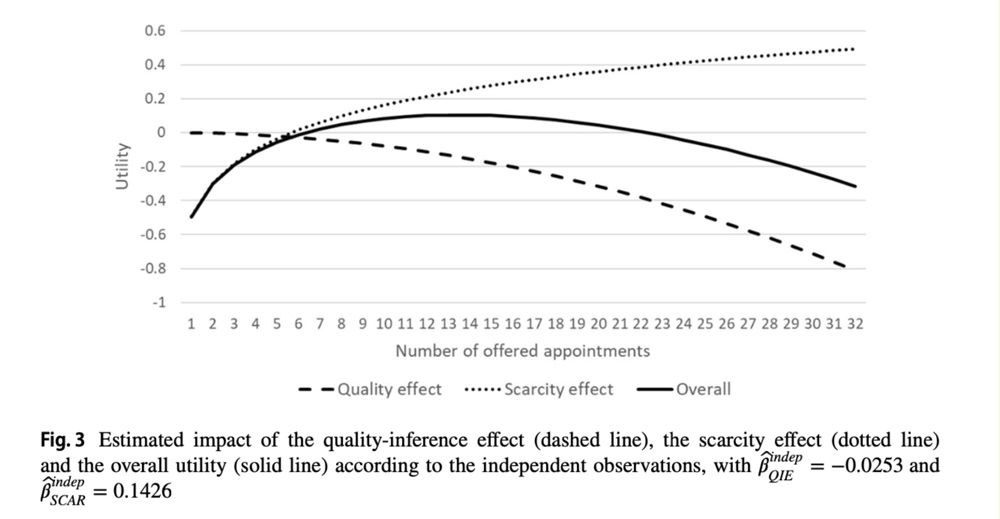 This graph shows that, overall utility is maximised between 7 to 15 appointment slots per day.
Keep in mind that there are other trust signals (e.g. having many positive reviews) that influence if leads perceive your service as high-quality.
Mistake 5: The wrong kind of availability (Flexibility effect)
Think about your own internal monologue when booking an appointment for a haircut or car service. You consider your daily schedule, times you have to arrive and leave your workplace, traffic and whether your kids have to be in school at unusual times on the day of your appointment. Your patients do this, too.
Enter the flexibility effect. Study subjects said they considered "how many appointments they had available, in case I was running late or needed to reschedule to a later time that day" and generally preferred multiple options around their ideal appointment time slot.3https://link.springer.com/article/10.1007/s11573-023-01161-9
It is beneficial to open up more availability around popular appointment times to give prospective customers the feeling of flexibility. Offering appointments at odd hours or during low-demand times might seem accommodating, but it can lead to inefficiencies and a disjointed patient flow.
One of the study participants sums it up like this:
"Well, it's weird. When there were many appointments available, I was hesitant because that seemed to signal they were of low quality. When they had a medium amount, I appreciated that because it offered flexibility. So it was really a balance there. Too few and too much availability were both concerning for different reasons."4https://link.springer.com/article/10.1007/s11573-023-01161-9
By identifying and rectifying these common online booking mistakes, you can significantly enhance your practice's operational efficiency, improve patient satisfaction levels and generate more first appointments.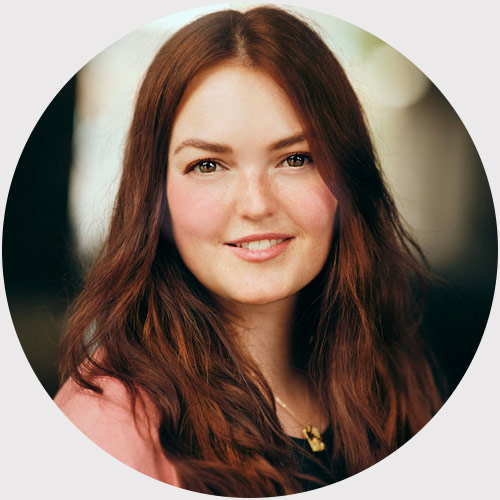 Elisa Friedl
Customer Success & Growth Manager
Hi, I'm Elisa. As a Success & Growth Manager at LiveseySolar, I work as a junction between our customers and our team.
Since joining LiveseySolar in 2019, I've learned how to develop meaningful relationships with your patients by designing strategies to generate awareness, engage your audience, utilise lead magnets, entry point offers and profit maximisers to amplify core offers and increase sales.
I also lead LiveseySolar's SEO Campaigns aiming to get you in Google's top results to increase target market awareness.
Seeing my customers grow their businesses and surpass their goals makes me proud.
Meet our Founders
We're passionate about helping leaders of high-quality, growth-minded practice owners double their practice revenue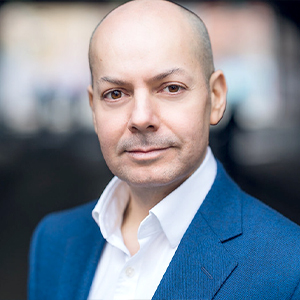 Rod Solar
Founder & Fractional CMO
Rod co-founded LiveseySolar and acts as a Fractional CMO for our customers. He's on a mission to help transform the lives of 10,000 people with vision correction surgery by 2024. To achieve that, he inspires his customers to make confident decisions that will help 50,000 people take the first step towards vision correction.
LiveseySolar completely transformed the way we were approaching this… We've gone from having just the dream of having a practice to having a practice up and running with people making inquiries and booking for procedures… It's extremely pleasing. We feel lucky we connected with LiveseySolar.
— Dr Matthew Russell, MBChB, FRANZCO, specialist ophthalmic surgeon and founder of VSON and OKKO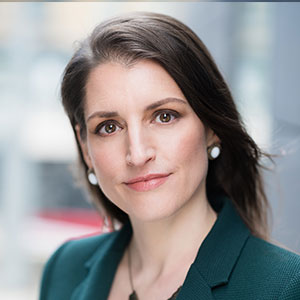 Laura Livesey
Founder & CEO
Laura Livesey is the co-founder & CEO of LiveseySolar. She has developed powerful refractive surgery marketing systems that increase patient volumes and profits for doctors, clinics, and hospitals, since 1997.
Rod and Laura know as much about marketing surgery to patients as I know about performing it. They are an expert in the field of laser eye surgery marketing. They know this industry inside out. I believe that they could help many companies in a variety of areas including marketing materials, sales training and marketing support for doctors.
— Prof. Dan Reinstein, MD MA FRSC DABO, founder of the London Vision Clinic, UK