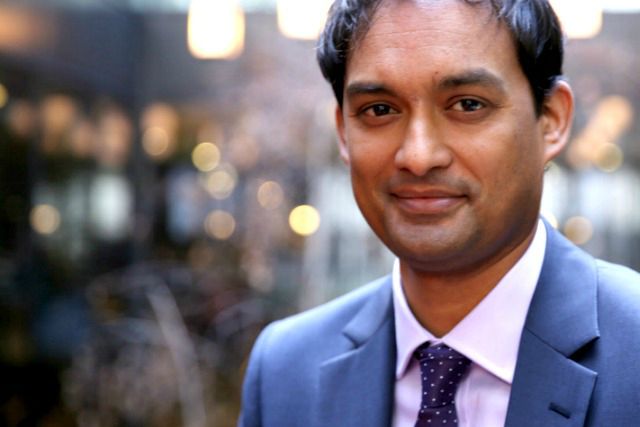 London cataract surgeon gets online branding makeover (Case Study)
Jaheed Khan is a London eye surgeon working at Moorfields and Clinic London, specialising in Cataract surgery, the treatment of AMD (Age-related Macular Degeneration) and Diabetic Retinopathy. Mr Khan focuses on delivering a high level of customer service to his patients, many of which are concerned about finding the safest eye treatments done with the latest technology. If you're a prospective patient looking for Mr Khan's website, please click here.
The healthcare marketing challenge
Initially, he relied on traditional referrals and a basic website to build his practice, but after realising how many patients were asking for high-quality medical information online, he decided to take a leap of faith and transition to provide an excellent informational website with instructive patient videos as well as SEO (Search Engine Optimisation) so that patients could find what they are looking for when they typed search queries into Google.
How the client felt after working with LiveseySolar
After working with us for over 3 months, Mr Khan, who is a Consultant Ophthalmologist working primarily through Moorfields Eye Hospital and Clinic London – a private clinic on Harley Street, has this to say:
"I approached Livesey Solar early this year in order to help me with marketing my private ophthalmology practice. I was very impressed with the clients they had done work for in the past, including the eye related medical practices and I was very keen to hear their proposals.

Our initial meet up was professional and personal. We ran through what I had tried before, what my expectations were and the timelines I wanted to achieve my goals. At that point, I had absolutely no hesitation commissioning their services as they knew exactly how to deliver what I required at a sensible price.

The basis of our work involved setting up a brand new personal  website, shooting educational and promotional videos for YouTube, setting up a lead nurturing campaign and Google Adwords campaign. The use of Basecamp – an online management tool kept me up to date on which team member was actioning what was required and I received daily updates on the progress of the work. This was particularly reassuring to ensure that my project fund was being utilised correctly and was accounted for.

Every single target Livesey Solar set was met exactly on time or earlier. Any unexpected issues were dealt with extremely efficiently and promptly. I could always speak to one of the team via email or phone pretty much immediately. My website and marketing campaigns are now running, 12 weeks after we started the project.

Many patients, friends and colleagues have commented on how impressive everything looks. Livesey Solar have gone above and beyond what I expected and I have absolutely no hesitation in recommending them. Friendly, personal and professional and leaders in the field of medical practice marketing. I simply cannot fault them. Thank you Rod and Laura and the rest of the Livesey Solar team."
Implementing a cohesive healthcare marketing strategy
In late 2014 Jaheed Khan approached LiveseySolar to improve his online experience so he could provide a world-class offering to his patients. Mr Khan commissioned a new website, a series of video FAQ's, social media, branding, downloadable information, products, and an email follow up sequence to educate his prospective patients on the high value of booking an appointment with him for eye surgery. We talk about each of the different parts of the online marketing strategy below.
High quality, short videos sharing what patients care about most
We first filmed Mr Khan answering frequently asked questions about eye surgery.
We began the project in February by filming and producing nearly 4 dozen, 1-2 minute videos, featuring Mr Khan answering the questions he most frequently hears from patients when they see him. Since launching on his YouTube Channel, Mr Khan's videos have received 2,143 views.
After we made a list of questions, Laura Livesey, the designer behind the project chose Mr Khan's brand guidelines before shooting the videos, which informed the framing, colours, and mood in the video – right up to what colour of tie we advised him to wear so that the colours in the videos would complement the look and feel of the website we were designing.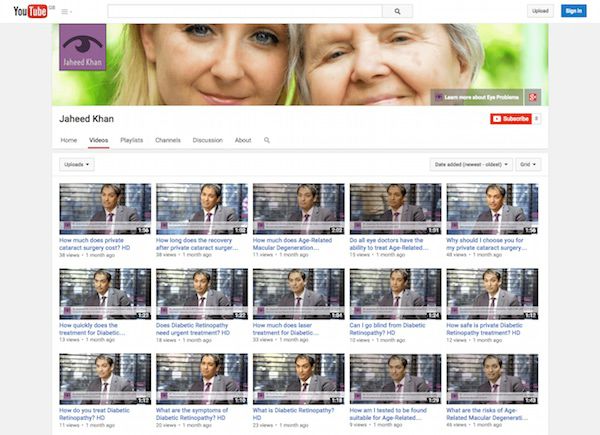 We filmed the videos in high quality HD, supported the vocals with a light music track, branded them with a strap line and tailed them with a simple call to action to either call or visit the website.
Apart from creating a YouTube channel, our plans included
embedding key videos into various evergreen pages in his website
transcribing every video into a search engine optimised blog post
publishing the video blog posts weekly on his blog
sharing the video blog posts on social media, including Facebook, Twitter, Google+ and LinkedIn.
Developing a new healthcare website for Jaheed Khan
As we edited, transcribed and wrote every video blog post, we began designing Jaheed Khan's website. Echoing the imagery first planned in the style guide (and used for the YouTube Channel), Ms Livesey designed the front page look and feel, from which everything followed.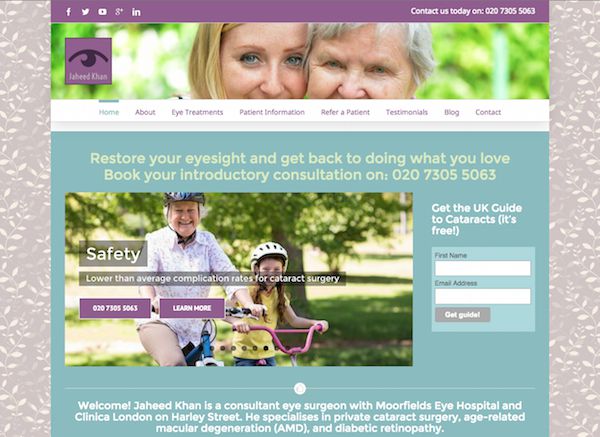 Jaheed Khan's Website Frontpage
Imagery is focussing on the target market enjoying their lives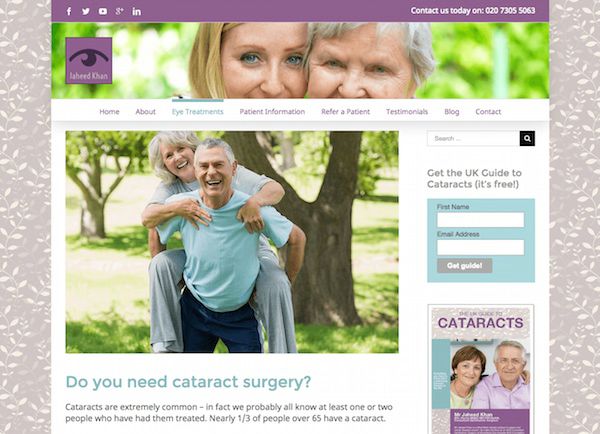 Jaheed Khan Product Page
A convincing and professional About Us page communicating key credibility indicators
Jaheed Khan's About Us Page
A clear contact page showing how find Mr. Khan's practice locations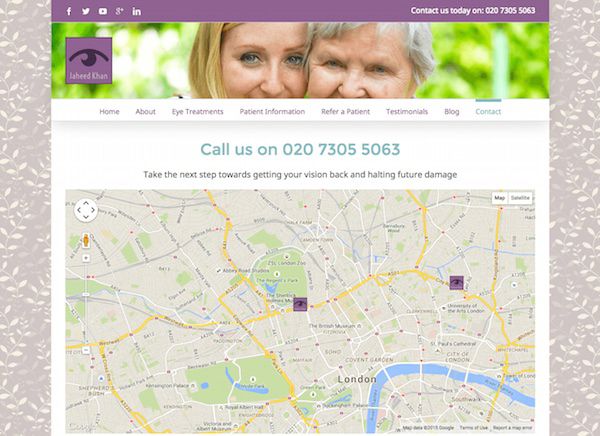 Jaheed Khan's Contact Us Page
Compelling testimonial sliders throughout the website to highlight Mr Khan's successful patient experiences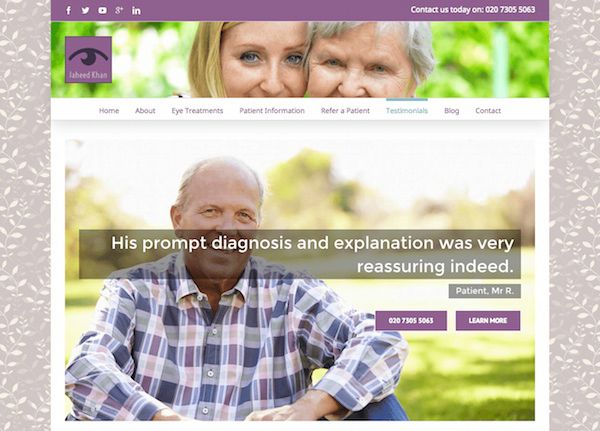 Jaheed Khan's Testimonials Page
An easy to navigate blog list page sharing the latest news and patient information resources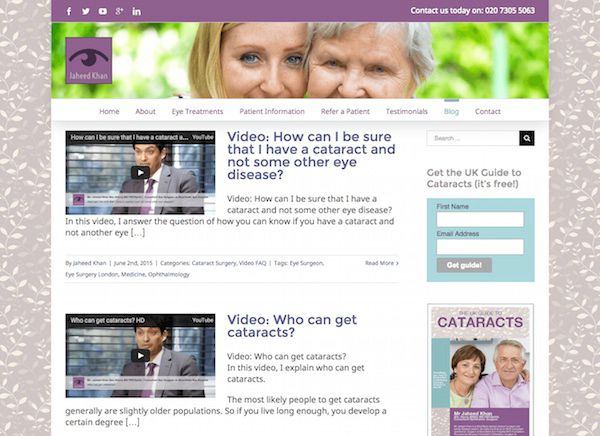 Jaheed Khan's Blog List Page
Compelling video content on blog posts appearing weekly through the year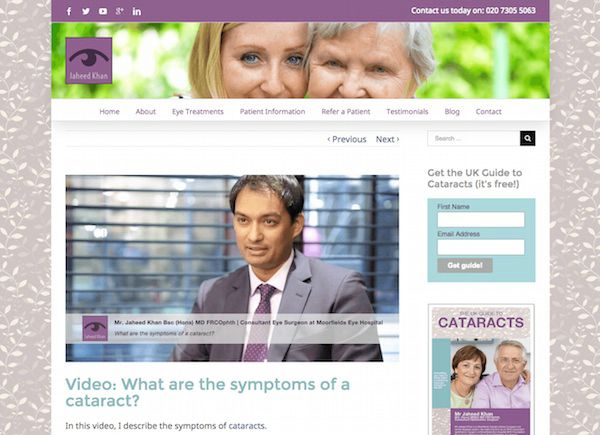 Jaheed Khan's Blog Post Page
Clear pricing models showing what self-pay patients might pay for typical procedures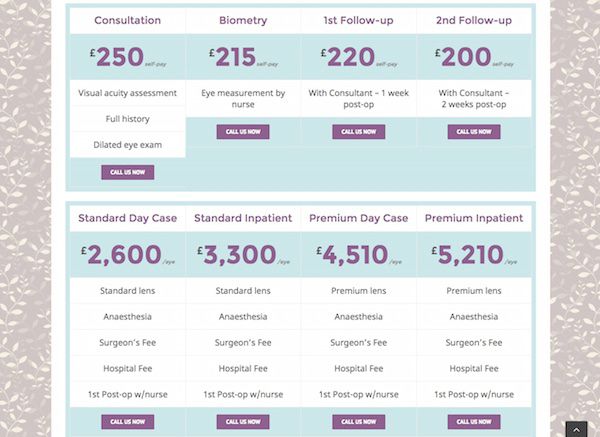 Jaheed Khan's Pricing Page
Creating a reason to convert with downloadable information content
Typically, forms on websites ask people to sign up without offering anything in return. Instead, we created 3 Patient Guides that give visitors a compelling reason to take that first step (which is difficult for most people) and register their contact information.
A form appears on every page where there is a sidebar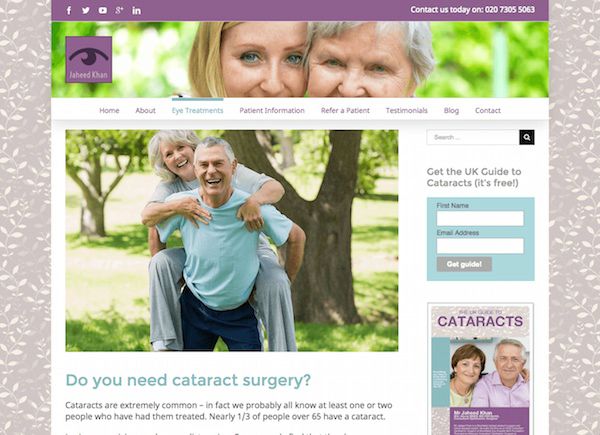 A. Screenshot showing cataract guide sign up
The guides also have their own download page
B. Free Eye Guides Form Page
Ensuring that the potential patient actually wants the information
A user fills out that form and sees a message that they have been emailed a confirmation. The user then receives a confirmation email (C) to opt in to the list (sent instantly, received when the user checks their email).
D. Guide Thank You Page
The high-quality downloadable content guides
This page is hidden from search engines and will be a Goal in Google Analytics, so we can track how many people click on the opt-in email link and how many people view each Guide. The user then clicks either the image of the guide or the green button (e.g. "Get AMD Guide") and will see the Guide open in their browser (E).
E. Guide in Browser
Helpful email followup content
The user can then print or save the Guide. We retain their contact details for the follow up sequence of emails which will then send them useful information when they need it (i.e. a Lead Nurturing Project). The user gets a 2nd email (Thank you email) that contains a link to Download the Eye Guides again. (F)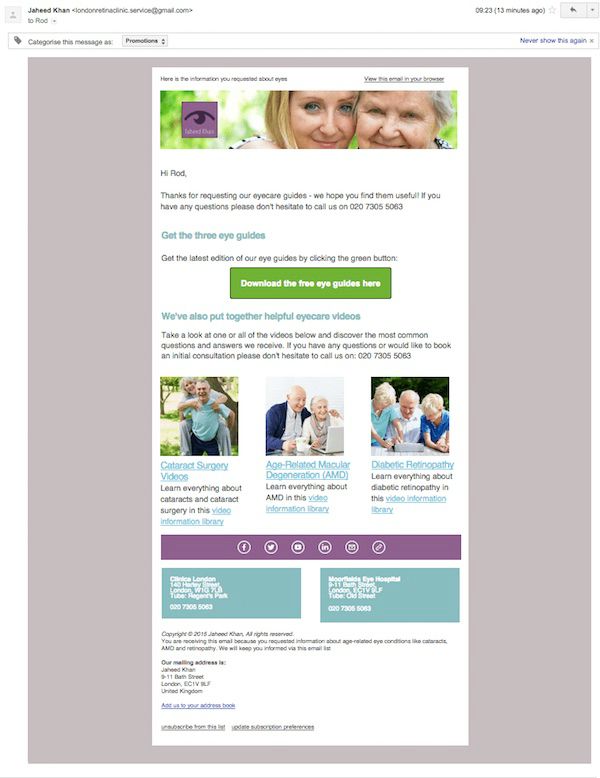 F. Thank you Email

Following this, the user gets a series of automated email messages over a period of 6-8 weeks, highlighting reasons to visit for a consultation with Mr. Khan.

Extending the branding through all social media channels for a cohesive identity
A big part of this project involves disseminating Mr. Khan's excellent content throughout consistently and centrally managed social media channels.
Facebook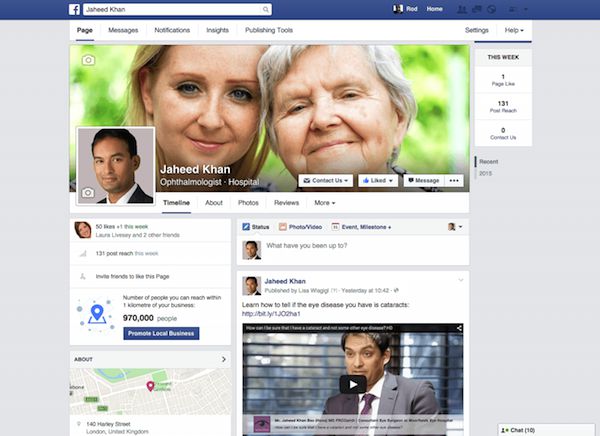 Jaheed Khan LinkedIn
Improving online branding and patient information leads to improved communications results
There are 10.3 million people in the UK who are older than 65 and this figure is growing rapidly. By 2031 people aged 60 or over will pass 20 million. Previously the cataract surgery market has been underserved by high quality patient information. Jaheed Khan is one of a select group of surgeons seeking to change that by providing compelling, visually appealing patient information that lets patients find what they need when faced with the often scary business of figuring how best to correct failing vision. LiveseySolar is proud to have put together this solution aimed at providing practical and highly relevant information that will help change patient's lives for the better.
LiveseySolar
LiveseySolar's mission is to double the size of 150 cataract and refractive surgery practices. Using our proven marketing frameworks and deep market knowledge, our customers can predictably and sustainably grow their practices so that they can enjoy a healthy balance between both worlds – a successful private practice and a happy life.
Meet our Founders
We're passionate about helping leaders of high-quality, growth-minded practice owners double their practice revenue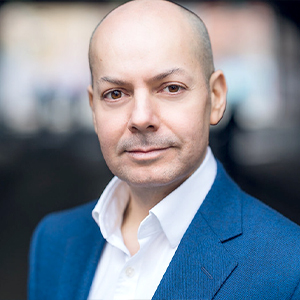 Rod Solar
Founder & Fractional CMO
Rod co-founded LiveseySolar and acts as a Fractional CMO for our customers. He's on a mission to help transform the lives of 10,000 people with vision correction surgery by 2024. To achieve that, he inspires his customers to make confident decisions that will help 50,000 people take the first step towards vision correction.
LiveseySolar completely transformed the way we were approaching this… We've gone from having just the dream of having a practice to having a practice up and running with people making inquiries and booking for procedures… It's extremely pleasing. We feel lucky we connected with LiveseySolar.
— Dr Matthew Russell, MBChB, FRANZCO, specialist ophthalmic surgeon and founder of VSON and OKKO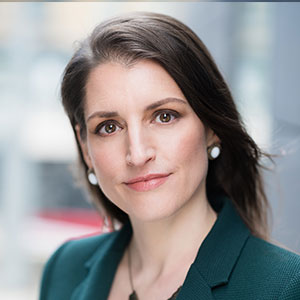 Laura Livesey
Founder & CEO
Laura Livesey is the co-founder & CEO of LiveseySolar. She has developed powerful refractive surgery marketing systems that increase patient volumes and profits for doctors, clinics, and hospitals, since 1997.
Rod and Laura know as much about marketing surgery to patients as I know about performing it. They are an expert in the field of laser eye surgery marketing. They know this industry inside out. I believe that they could help many companies in a variety of areas including marketing materials, sales training and marketing support for doctors.
— Prof. Dan Reinstein, MD MA FRSC DABO, founder of the London Vision Clinic, UK