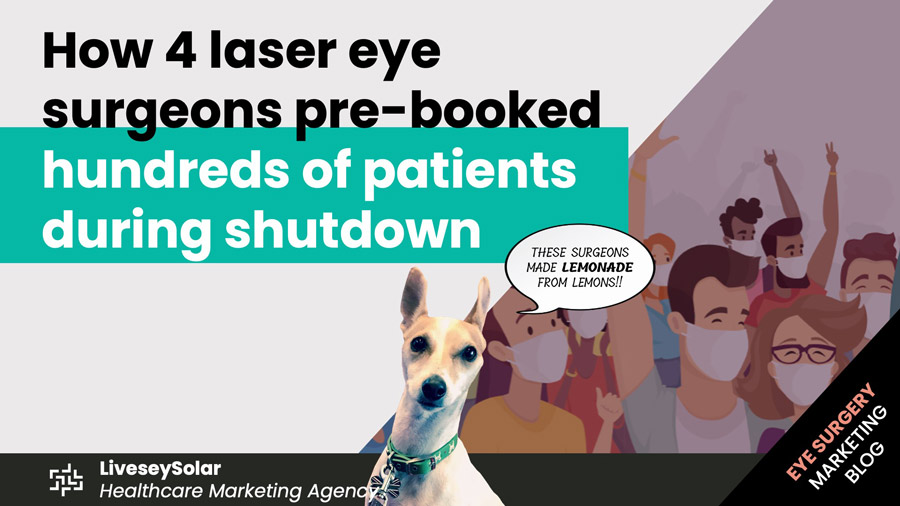 How 4 laser eye surgeons pre-booked hundreds of patients during shutdown
While everyone was trying to figure out their cash flow during shutdown and the early stages of reopening, our clients bridged the gap by generating hundreds of thousands in treatment sales during the lockdown.
What they achieved
One clinic booked 151 patients
In Case 1, we sent 9,449 texts to the clinics' list of patients who had previously enquired but hadn't booked. These texts captured the interest of 1,423 people leading to 548 scheduled phone calls and virtual consults, and 151 booked patients. These patients amount to over $600,000 USD in sales.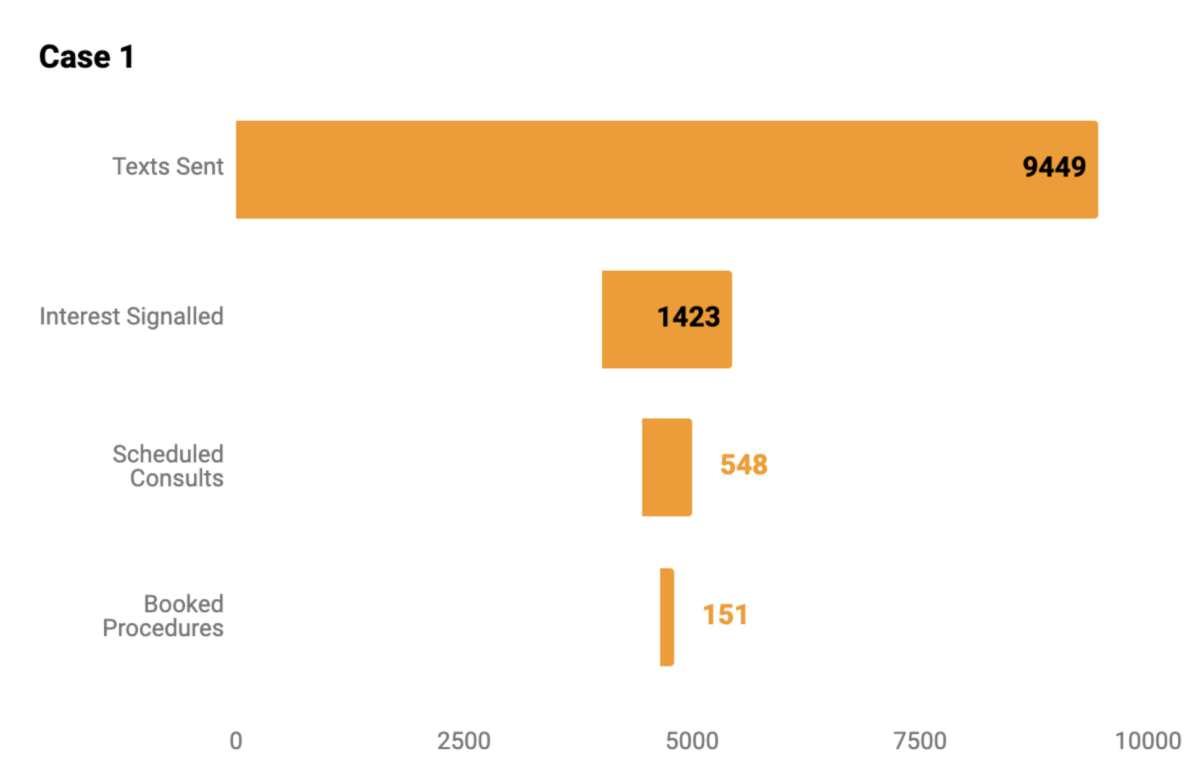 Another clinic generated over $60,000 USD from just over 1000 texts sent
Case 2 is still going through the campaign, but here are the results for two of their markets so far…
Market A: We sent 429 texts. This sparked the interest of 84 prospective patients which has led to a total of 42 calls and virtual consults and 6 booked patients equating to $22,788 in revenue so far.
Market B: We sent 703 texts. This sparked the interests of 145 prospective patients which lead to a total of 62 calls and virtual consults and 20 booked patients equating to $42,980 USD in revenue so far.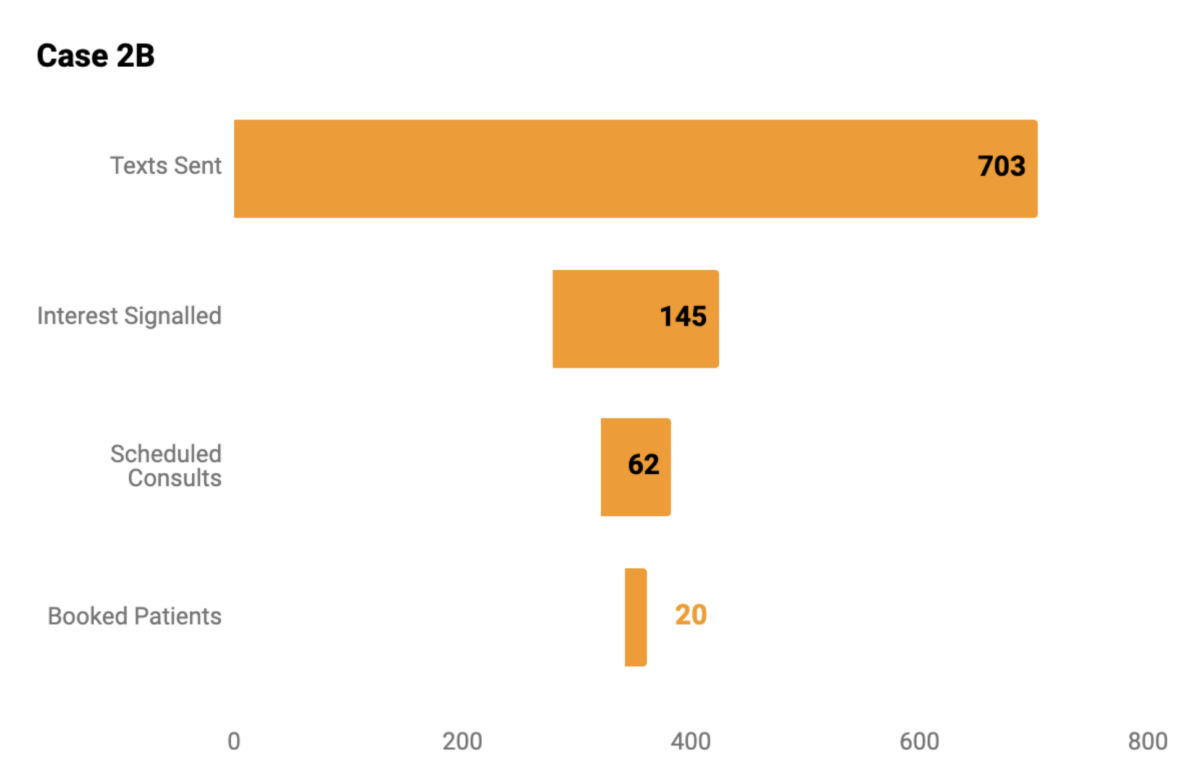 A third clinic generated 11 patients (update 29.06.20 – 26 patients)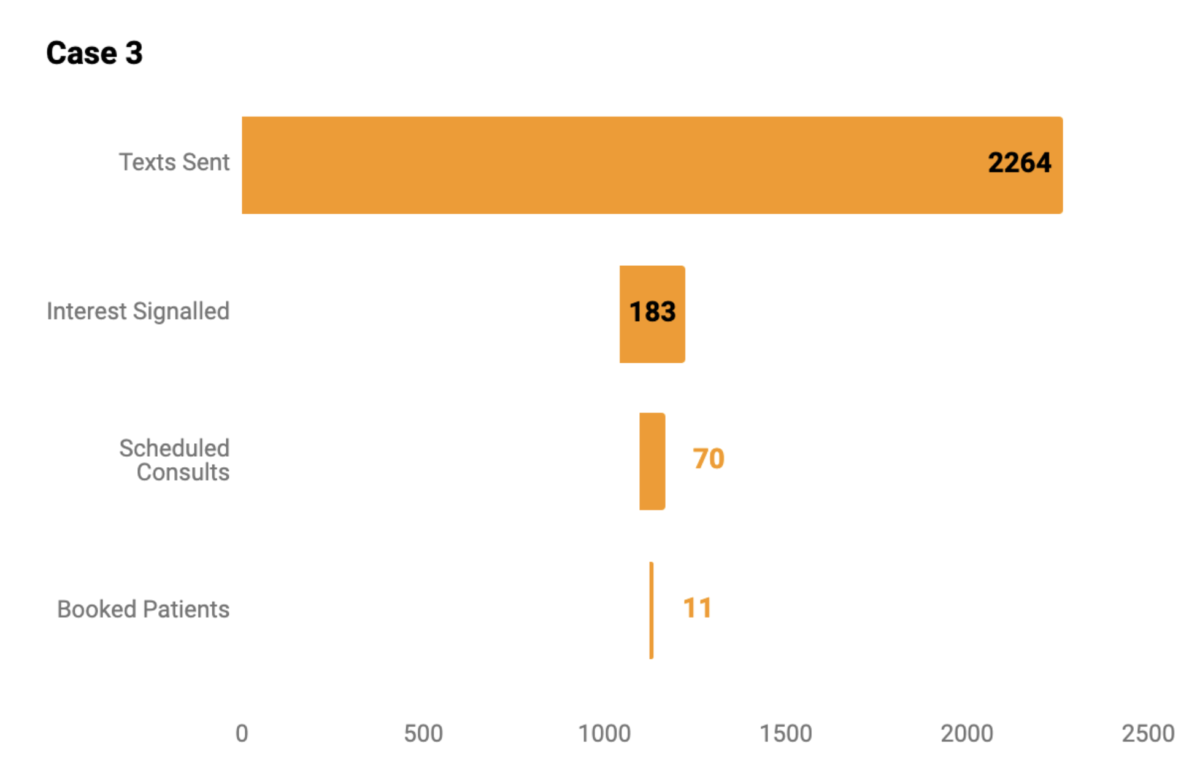 In Case 3, we sent 2264 texts. This captured the interest of 183 prospective patients which led to a total of 70 calls and virtual appointments and 11 booked patients, or $44,000 USD. (Update, the clinic has since closed the campaign with 26 patients sold with a result of 114,400).
A fourth clinic achieved a text–to-patient conversion rate of over 2%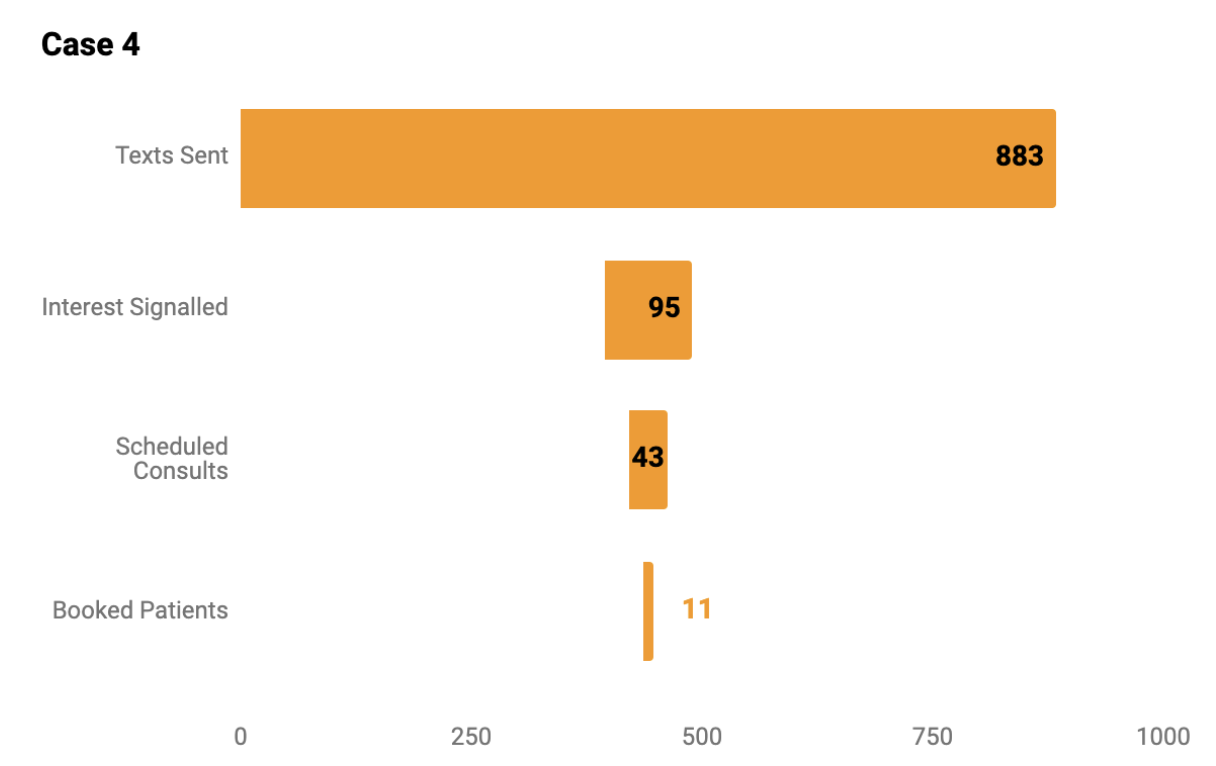 In Case 4, we sent 883 texts. This captured the interest of 95 prospective patients a total of 43 calls and virtual appointments and 11 booked patients, or $60,500 USD.
To achieve these outstanding results:
They provided us with their target list(s). We guided them to segment and provide us with this data in a safe, private and protected manner.
They licensed our text bot tech to run an efficient SMS marketing campaign for a period of 30 days from initiation.
Our direct-response copywriting specialist wrote copy for the campaign that seized their prospects' attention and sparked a desire for their unique service.
We produced a compelling call-to-action (CTA) to include in the message that gave them the best chance to turn interest into action.
Once they were happy with your message, we tested the campaign to ensure it worked as we planned.
Before we hit send, we took some time to think about what day and times were most effective for your messages to go out.
They identified what they wanted (i.e. full payment, deposit on surgery) and what incentive they'd offer in return (i.e. discount, added value, a spot in the queue)
We provided them with all the necessary training and advice to get them confident and skilled in handling the responses from their SMS campaign so that they could increase their chances to convert those interested into sales.
What's even more astonishing about this technique is that it took very little time or effort to execute using the right technology.
What's next?
We're advising all of our clients to immediately start collecting text-able mobile numbers from leads if they're not already doing so. That way, we can initiate similar campaigns for them if and when the next shutdowns happen.
We're also investigating ways to repeat this successfully, by cycling re-activating text bot campaigns on a regular basis to win-back leads that fail to convert within our ideal 7-day conversion window.
What does this mean for you?
Obviously, start collecting mobile numbers with immediate effect. Next, if and when shutdowns are imminent, we can set up a text-bot reactivation campaign for you.
Want to learn more about text-bot reactivation campaigns?
Healthcare marketing experts Laura Livesey, Michael King, and Rod Solar hosted a free webinar where they shared >everything you need to know to cost-effectively implement this profitable approach –without risk
Sounds too good to be true, right? We're not kidding. Some practices did even better during the shutdown than they did last year during the same months.
This works. Watch this free webinar and you'll get all the stats, facts and figures, plus a step-by-step walkthrough of what you will need and how to put it into action. For just 1 hour of your time, you will gain all the knowledge and know-how you need to transform this lousy lockdown into a lucrative LASIK sales period.
Meet our Founders
We're passionate about helping leaders of high-quality, growth-minded eye surgeons double their practice revenue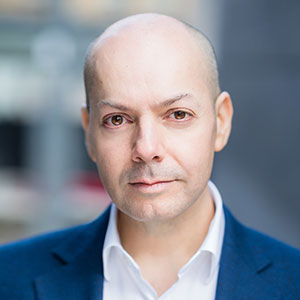 Rod Solar
Founder & Fractional CMO
Rod Solar co-founded LiveseySolar and acts as a Fractional CMO for our clients. He's on a mission to double the size of 150 cataract and refractive surgery practices. He figures the best way to achieve that is by applying proven frameworks to discover & leverage the hidden growth opportunities in the very best practices. Rod is passionate about digital marketing.
LiveseySolar completely transformed the way we were approaching this… We've gone from having just the dream of having a practice to having a practice up and running with people making inquiries and booking for procedures… It's extremely pleasing. We feel lucky we connected with LiveseySolar.
— Dr Matthew Russell, MBChB, FRANZCO, specialist ophthalmic surgeon and founder of VSON and OKKO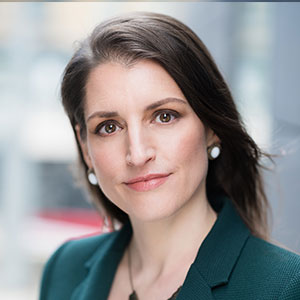 Laura Livesey
Founder & CEO
Laura Livesey is the co-founder & CEO of LiveseySolar. She has developed powerful refractive surgery marketing systems that increase patient volumes and profits for doctors, clinics, and hospitals, since 1997.
Rod and Laura know as much about marketing surgery to patients as I know about performing it. They are an expert in the field of laser eye surgery marketing. They know this industry inside out. I believe that they could help many companies in a variety of areas including marketing materials, sales training and marketing support for doctors.
— Prof. Dan Reinstein, MD MA FRSC DABO, founder of the London Vision Clinic, UK